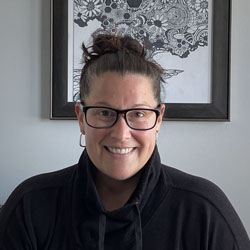 Stephanie Szoke, MS, LPC, NCC, NBCC

MY PHILOSOPHY: I believe that counseling is a journey of self-discovery in which the therapist and client work together to explore the client's current state of physical, mental, and emotional well-being. As a therapist, I believe that developing a therapeutic relationship in which a client feels safe, comfortable, and free to share without conformity or censorship. I strive to provide my clients with this type of setting while knowing they will receive the respect, authenticity, genuineness, acceptance, and understanding from me that they deserve. 
Through counseling, my ultimate goal is to help clients overcome obstacles and develop healthy coping skills in an empathetic and supportive environment so that they can handle life's stresses in a productive way. Another important aspect of my work is the exploration of ineffective behaviors and patterns that are no longer useful to the client's well-being. Many of these patterns are rooted in the person's past, and I believe that most people need to visit the past in order to fully understand why they think, feel, and behave the way they do. Bringing this knowledge of the past into the present allows clients to understand why they perpetuate their ineffective behaviors and allows them to take the steps necessary to change their lives.
I use the client-centered approach and primarily practice Cognitive Behavioral Therapy (CBT) and use techniques from Dialectical Behavioral Therapy (DBT) and Motivational Interviewing (MI).
EXPERIENCE: My professional career began in 2003 as a High School Teacher of Psychology and History with a passion to pursue my goal of becoming a Licensed Professional Counselor remaining high on my priority list. I became very involved with both the Guidance Department and Student Assistant Counselors programs as a mentor for our students in need. In 2015, I began my journey towards becoming a Certified and Licensed Professional Counselor. I graduated from Monmouth University with a Master's of Science in Mental Health Counseling and successfully completed the Licensing Requirements for Professional Counselors in which I am a National Certified Counselor and Licensed Associate Counselor. As a former Intern with HBH Counseling LLC, it is with great pride and honor that I begin my career as a Licensed Counselor with this practice. 
SERVICES PROVIDED: Individual and Group
AGES I WORK WITH: Adults 18+ and Teens For Group Services Only
COMMON ISSUES ADDRESSED: Eating Disorders, Body Image, Self Esteem, Anxiety Disorders, Depressive Disorders, Mood Disorders, Personality Disorders, Self-Harm, Grief/Loss, Relationship/Family Issues, Adjustment Disorder, LGBTQ