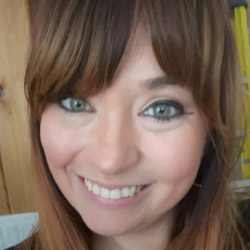 Ashley Sheridan, MA, LAC, NCC
Therapist, Clinical Supervisor: Bethany McCarthy
Email Ashley

NJ LPC 37AC00545500
MY PHILOSOPHY: "Asking for help is never a sign of weakness. It's one of the bravest things you can do. And it can save your life." 
By seeking help, you have already taken the first step in your healing journey. As a counselor, I seek to provide clients a supportive and safe space by playing on your strengths and potential for growth and to make my clients feel seen. My approach to therapy is collaborative and person-centered in nature and is focused on finding what works best for the individual as all clients bring their own unique story with them. Together we will work to find goals that are achievable and realistic. While change can be uncomfortable at times, I don't believe that therapy has to always be serious. Although some sessions may be heavy and emotional, I try my best to work in humor into our sessions to make the process more comfortable and natural for my clients. I see my role as a catalyst for change, helping you to draw on resources that you may already possess to promote the change that you are seeking.
I utilize an eclectic and highly individualized approach. Common approaches that I have used are Person Centered, techniques from Cognitive Behavioral Therapy (CBT) Dialectical Behavioral Therapy (DBT), Mindfulness Based Stress Reduction(MBSR), and Motivational Interviewing (MI).
EXPERIENCE: I entered the mental health field in 2017 and gained the majority of my clinical experience in Partial Hospitalization and Intensive Outpatient settings with an emphasis on dual diagnosis. I received my Master's Degree in Clinical Mental Health Counseling from Rider University in 2020. I am currently a Licensed Associate Counselor (LAC) and Nationally Certified Counselor (NCC).
SERVICES PROVIDED: Individual Counseling, Groups
AGES I WORK WITH: Teens, Adults, Seniors
COMMON ISSUES ADDRESSED:Substance Use, Co-Occurring Disorders, Autism Spectrum Disorder, Adjustment Disorders, Anxiety, Bipolar Disorders, Borderline Personality Disorder, Depressive Disorders, Self Harm, Self Esteem, Trauma