Kelsey Gilligan – MA, LAC, NCC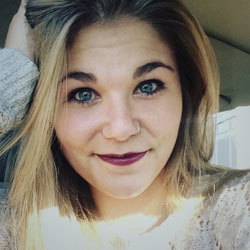 Primary Therapist | Email Kelsey
MY PHILOSOPHY: "Not all storms come to disrupt your life, some come to clear your path."  
As a therapist, I believe that a trusting therapeutic relationship, empathy, and encouragement create the "perfect storm" for positive change. My role in this process is to provide a safe space to motivate and encourage you to increase self-awareness, self-acceptance, and healthy and effective thoughts and behaviors. I believe that an eclectic approach is most effective in treating mental health and substance abuse disorders, as well as any other difficulties someone may be experiencing. My goal is to use an eclectic and individualized approach to meet each person where they are in their personal growth journey and support them in discovering and achieving the change they most want to see. 
EXPERIENCE: I entered the Mental Health field in 2015 and gained most of my clinical experience in treating co-occurring disorders in Detox, Partial Hospitalization, and Intensive Outpatient settings. I received my Bachelor's Degree in Psychology with a Minor in Sociology in 2015 and a Master's Degree in Clinical Mental Health Counseling from Rider University in 2017.  I am currently a Licensed Associate Counselor in New Jersey, and a Nationally Certified Counselor. 
SERVICES PROVIDED: Individual Counseling, (soon to be adding groups 🙂)
AGES I WORK WITH: Adolescents, Teens, Adults
COMMON ISSUES ADDRESSED: Substance Use and Addiction, Co-Occuring, Adjustment Disorders, Anxiety, Depression, Relationship Conflict, Grief and Loss.